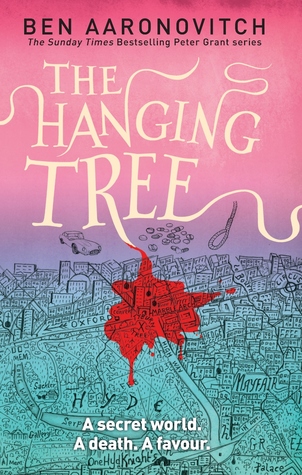 Date Published: January 31, 2017
Published By: DAW Books Inc.
Number of Pages: 292
Synopsis: Suspicious deaths are not usually the concern of Police Constable Peter Grant of the Folly – London's police department for supernatural cases – even when they happen at an exclusive party in one of the flats of the most expensive apartment blocks in London. But the daughter of Lady Ty, influential goddess of the Tyburn river, was there, and Peter owes Lady Ty a favor. Plunged into the alien world of the super-rich, where the basements are bigger than the houses, where the law is something bought and sold on the open market, a sensible young copper would keep his head down and his nose clean. But this is Peter Grant we're talking about. He's been given an unparalleled opportunity to alienate old friends and create new enemies at the point where the world of magic and that of privilege intersect. Assuming he survives the week…
     I'm beginning to think that, when it comes to the Peter Grant series, Ben Aaronovitch can do no wrong. In The Hanging Tree, we get yet another fantastic book in the urban fantasy series that mixes magic with mystery.
     The Peter Grant universe has definitely grown from the very first book in the series and I love the feeling of expansion the series has now. What with Peter learning about a female-exclusive magical society, tangling with Americans and finding out about their magical tradition, and a brief mention about the arrangement with Chinatown, it seems only a matter of time before Peter goes on a trip abroad – and things become even more epic. (Oh man, please let the next Peter Grant mystery be set in Chinatown.)
     And speaking of epic, we finally get to see a confrontation between Peter and a certain former friend turned deadly enemy. In my opinion, the fight scene was woefully short but only because I had been anticipating it since book four. But I have a feeling that this was just the warm-up for a future battle of truly epic proportions.
     The Hanging Tree is also remarkable for being the book where we finally learn the Faceless Man's true identity. The reveal of Peter Grant's own Big Bad was pitch perfect and truly chilling – it played out like something you would see in a taught psychological thriller.
     We see a lot of cameos from characters that have popped up in  previous Peter Grant novels – some taking on bigger roles than others. While I love seeing some of my favorite characters, I will say that it is sometimes hard to keep track of them all.
     And now I must enter into post-Peter Grant depression seeing as I have caught up on all of the books and there is no news about when the next one will be released. Needless to say, I cannot wait for the next one and I highly, highly recommend this series.
Rating: 4/5